Doliver (Do/nald and O/liver) is the pairing of Donald Davenport and Oliver. Donald is Oliver's boss and mentor.  
They are portrayed by Hal Sparks and Jake Short.  
Other Names
Onald (O/liver + Do/nald)
Olivald (Oliv/er + Don/ald)
Donalver (Donal/d + Oli/ver)
Moments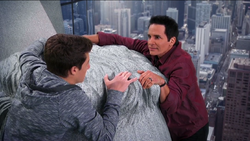 Oliver had to save Mr. Davenport from falling off the side of the building.
Mr. Davenport made Oliver believe in himself and use his flight to save them.
Trivia
Apart from Douglas, Oliver is more willing than others, even the Lab Rats, to call out Donald for being selfish or arrogant.
Both Oliver and Donald had similar problems trying to restore Skylar's/Bree's powers, and never did so themselves.
Gallery
The image gallery for Doliver may be viewed here.
Userbox
| | | |
| --- | --- | --- |
| | | This user ships Doliver! |

Code: Doliver
Ad blocker interference detected!
Wikia is a free-to-use site that makes money from advertising. We have a modified experience for viewers using ad blockers

Wikia is not accessible if you've made further modifications. Remove the custom ad blocker rule(s) and the page will load as expected.