Hal Harry Magee Sparks III (born September 25, 1969) plays Donald Davenport, Leo's step-dad, an inventive scientist looking to push the boundaries of technology with the creation of three teen bionic super-humans, in the Disney XD live-action comedy series Lab Rats and, later on, Lab Rats: Elite Force. He also directs some of the Lab Rats: Elite Force episodes.
Background
Kentucky native Hal began his career in comedy as a member of the famed Second City Troupe in Chicago, where he was named the "Funniest Teenager in Chicago" by the Chicago Sun Times. He hosted E!'s Emmy Award-winning "Talk Soup" and had a starring role in "Queer As Folk." Hal has appeared as a star commentator on VH1's popular "I Love the '80s" series and as a guest on the nationally syndicated "Stephanie Miller Radio Show." He has made appearances as a pop culture expert on "Joy Behar" and CNN's "Your Money," and has also appeared on "Charmageddon," "The Tonight Show," "Larry King Live," "Charlie Rose," "Good Morning America," "The View" and "Jimmy Kimmel."
Film
His feature film credits include "Spider-Man 2" and "Dude, Where's My Car?" In addition to acting and performing stand-up comedy, Hal is an accomplished musician. His band, Zero 1, recently released their debut album. He also enjoys martial arts and learning languages; he is fluent in Mandarin. Hal resides in Los Angeles and is a proud father to son, Camden.
Trivia
He likes heavy metal music.
He lives a completely sober life.
He had a son named Camden Harrison Sparks in May 2011.
At the age of 17, he was called the 'Funniest Teenager in Chicago'.
He and Jeremy Kent Jackson have the same birthday, but are different ages.
He's in a band called Zero 1.
He has said in an interview that he'll be directing some episodes in Lab Rats: Elite Force. [1]
He is as tall as William Brent.
In some pictures, he is shown with long hair, and in others he is shown with short.
Gallery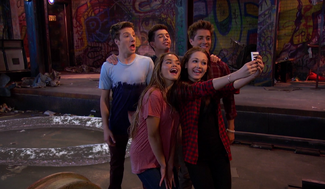 The image gallery for Hal Sparks may be viewed here.