"Lab Rats vs. Mighty Med"
is an episode that took place in Season 4 of
Lab Rats: Bionic Island
and Season 2 of
Mighty Med
. It first aired on July 22, 2015. This episode serves as the backdoor pilot of
Lab Rats: Elite Force
.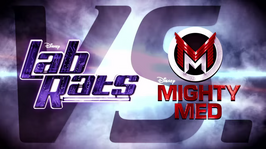 Plot 
When Chase and Davenport create a groundbreaking energy source with a new piece of technology, The Incapacitator from Mighty Med tricks Chase into thinking he's a potential buyer and takes off with the device. Chase is severely injured in the process, so Kaz and Oliver take him to the Mighty Med hospital to treat him. Meanwhile, Adam, Bree, Oliver, Leo, and Skylar try to track down The Incapacitator before it's too late.
Cast
Jake Short as Oliver
Carlos Lacámara as Horace Diaz
Jilon VanOver as Tecton
Jenelle McKee as Gamma Girl
Mike O'Hearn as Gray Granite
Guest Cast
Damion Poitier as The Incapacitator
Trivia
This episode is a crossover of the two Disney XD shows: Lab Rats: Bionic Island and Mighty Med.
This is the first ever crossover with 2 Disney XD shows.
Part 1 of the crossover is a Lab Rats episode, while Part 2 is a Mighty Med episode.
This is the second time Tyrel Jackson Williams and Bradley Steven Perry appear together since the Disney XD movie, Pants On Fire.
This is Disney XD's third crossover. The first was "Weasels on Deck" (I'm in the Band/The Suite Life on Deck) and the second was "Halloween at the Museum" (Ultimate Spider-Man/Jessie).
This is the second time William Brent and Jake Short work together in an episode, with the first being in A.N.T. Farm. Billy guest-starred in the episode, EndurANTs.
This special is mentioned in the Elite Force episode The Superhero Code when Kaz tells his brother Kyle about him asking for a bionic chip.
Gallery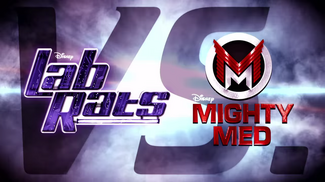 The image gallery for Lab Rats vs. Mighty Med may be viewed here.