"
That's how all the girls on Skylar's planet are. They're beautiful, and friendly and incredibly violent.
"
Skaz (Sk/ylar and K/az) is the friendship/romantic pairing between Skylar Storm and Kaz. They're both best friends with Oliver, they both love to take risks, and are always there for each other.
For the real life pairing of Paris Berelc and Bradley Steven Perry, see Braris.
Other Names
Kakylar (Ka/z and S/kylar
Saz (S/kylar and K/az)
Skyaz (Sky/lar and K/az)
Kaylar (Ka/z and Sk/ylar)
Klar (K/az and Sky/lar)
Kazlar (Kaz and Sky/lar)
Skylaz (Skyl/ar and K/az)
Kazar (Kaz and Skyl/ar)
Kylar (K/az and Sk/ylar)
Skylarz (Skylar and Ka/z)
Skylaraz (Skylar and K/az)
Skykaz (Sky/lar and Kaz)
Kalar (Ka/z and Sky/lar)
Kazsky (Kaz and Sky/lar)
Kazylar (Kaz and Sk/ylar)
Kar (K/az and Skyl/ar)
Relationship
Skylar is more of a person who wants to help others get out of trouble, whereas Kaz is someone who frequently gets himself in trouble, but they're cool with each other. They bicker quite often, but they always look out for each other in the end. They did go on a date once (though Kaz tricked Skylar into it in order to get the attention of a girl he liked by making her jealous of Skylar), but Skylar was completely oblivious to this. At first, they started out as acquaintances, but later became close friends. The followers of Skaz are called Skazzers.
Moments
Kaz called Calderan girls beautiful, including Skylar.
Kaz went to Skylar for help with his powers, assuming she would be great at helping him. According to Kaz, he was right.
Skylar was worried when Chase told her Kaz could stay a sheep forever.
Shippers
Quotes
Trivia
In Mighty Med, Kaz once took Skylar out on date (though she didn't know and it was fake).
Gallery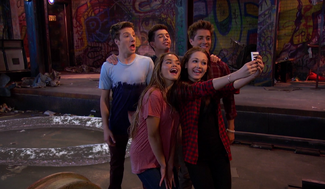 The image gallery for Skaz may be viewed here.
Userbox
Code: Skaz
| | | |
| --- | --- | --- |
| | | This user ships Skaz! |