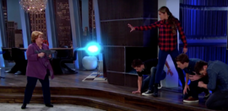 Temporal Stasis is the superpower that allows the user to stop time in a targeted area. The user is able to not only freeze beings, but is able to freeze energy, too.
Strengths
The user is not only able to render their targets inanimate, but is able to freeze all energy.
Drawbacks
Temporal Stasis only works for as long as the user can maintain it. The effects can be undone by beings who can absorb superpowers, such as The Annihilator and Hapax The Elder.
Appearances
 Users
Also called
Inanimation
Molecular Immobilization (ability to stop Molecules)