"
If it's a war they want, then we'll give them one.
"
This page uses content from Wikipedia. The original article can be viewed at Lab Rats: Elite Force.
The Attack is the season finale of Season 1 and the series finale of Lab Rats: Elite Force. This episode aired on October 22, 2016 to 0.55 million viewers. It is the 15th episode overall in the series, and the 161st and final episode overall in the Elite Force Universe. This is the final appearance of Chase, Bree, Kaz, Oliver, Skylar, Perry, Douglas, and Rodissiius and the only appearance of Reese in the series. This is also the final appearance of Roman and Riker in the series, but they only appeared as their black swarm.
Plot
Roman & Riker's black swarm returns, so the Elite Force hops into action to protect Centium City. There's more than meets the eye with Chase's new girlfriend, Reese.
Story
The Elite Force is surprised to see that Chase now has a girlfriend named Reese, whom he just met at a library. They later learn that Roman and Riker are using their shape-shifting abilities to terrorize the city. Power goes out all over the city, and the Elite Force goes out to stop Roman and Riker. Reese is left at the penthouse with Douglas. Perry comes to be with Douglas as she is afraid of the chaos outside. Douglas leaves to activate the skyscraper's emergency generator, while Perry insists on her and Reese giving each other makeovers. The Elite Force arrives on the city streets to battle Roman and Riker, but they realize that they are actually up against a dozen shape-shifters. Rodissius arrives and reveals that the shape-shifters are his children, who are avenging him and the loss of his powers by attacking the city. Rodissius reveals that Reese is one of his children, and that his plan is for her to obtain the superhero list from the mission command center while it is unprotected by the Elite Force. Bree uses a new superhero ability to attack Rodissius. Douglas activates the generator, and then flees after seeing Perry's makeover, allowing Reese to enter the mission command center. Douglas retreats to the command center, where he is attacked by Reese. She escapes with the superhero list and then rescues her father. Perry and the Elite Force find Douglas badly injured, and discover that communications have been blocked, preventing them from warning the superheroes of Rodissius' plan. Chase declares war against Rodissius and his children.
Cast
Main Cast
Recurring Cast
Guest Cast
Mentioned Cast
Trivia
Userbox
Code:Attack
My favorite episode is
The Attack!
Transcript
| | |
| --- | --- |
| | For a full transcript of The Attack, click here. |
Gallery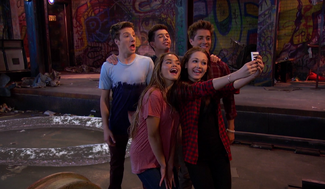 The image gallery for The Attack may be viewed here.
Videos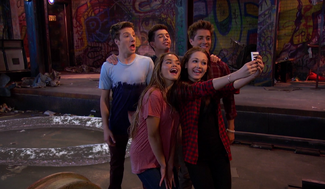 The video gallery for The Attack may be viewed here.
References