They Grow Up So Fast is the fifteenth episode in Season 1 of Lab Rats: Elite Force. This episode aired on October 15, 2016. It is the 14th episode overall in the series, and the 160th episode overall in the Elite Force Universe. This episode marks the first and possibly only appearances of Tasha and Naomi Davenport in the series for now.
Plot
Tasha introduces baby Naomi to the team, and Bree learns what it takes to be a babysitter. Chase obsessively designs a device that reverses the aging process.
Story
Cast
Main Cast
Guest Cast
Mentioned Cast
Trivia
This episode marks the first and only appearance of Tasha in Lab Rats: Elite Force and Naomi in the EFU as a whole.

This is also the first and only time in the EFU that Tasha is seen without Leo.

Skylar and Oliver were the only ones that used their powers in this episode.
We see the mission suits for the third time.
It is revealed that Bree does not know any nursery rhymes.
Skylar grew up being raised by a blob of lava that had no mouth, but she knew Twinkle Twinkle Little Star.
Oliver does not like babies because they do not have kneecaps.
This is the third time an aging device has been used. The first and second appeared in Mighty Med and once in Lab Rats where Donald Davenport aged.
Tasha is the first person to vomit on top of the Davenport Tower.
This is the second time we have seen Oliver fly with someone that does not have powers. The first time being when he rescued Donald.
This episode aired on William Brent's birthday.
It is revealed that aliens on Caldera stay babies for 25 years, meaning that Skylar could be over 25 years old.
Goofs
When Tasha came down into Mission Command, how did she not notice Teen Naomi was wearing the same clothes as Baby Naomi?
It is impossible that Naomi could have known how to speak when she turned into a teen. She shouldn't have known what words meant, as her mind was still one year old.
It is said that Bree doesn't know any lullabies/nursery rhymes, yet in Lab Rats: On The Edge, she and Chase sung "Hush little baby" to Adam.
Gallery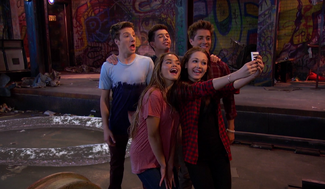 The image gallery for They Grow Up So Fast may be viewed here.
Videos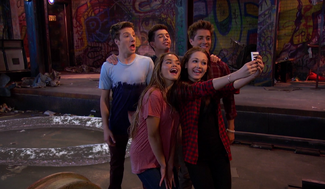 The video gallery for They Grow Up So Fast may be viewed here.
Userbox
My favorite episode is
They Grow Up So Fast!

Code:SoFast
Ad blocker interference detected!
Wikia is a free-to-use site that makes money from advertising. We have a modified experience for viewers using ad blockers

Wikia is not accessible if you've made further modifications. Remove the custom ad blocker rule(s) and the page will load as expected.